Information and Instructions for Candidates Seeking Election to CPA Ontario Council
CPA Ontario members in good standing are encouraged to involve themselves in the profession and contribute to its oversight and future success. Being elected to represent CPA Ontario's more than 99,000 members and 21,000 students provides an opportunity to help guide and lead the profession into the future, positioning your colleagues at the forefront of business changes.
This year, there are three seats up for election. The roles and responsibilities expected of a Council member are outlined below.
2022 Priority Skills, Attributes and Experiences
CPA Ontario continues to prioritize diversity and inclusion on Council and throughout the organization. Lasting change can only happen if we all take continued action to address systemic racism and structural inequality, while creating opportunities for priority communities. As such, we encourage nominations for Indigenous peoples, racialized persons, women, 2SLGBTQ+ persons and persons with disabilities.
This year, Council has prioritized the following six skills, attributes and experiences that would be additive to Council and aligned with CPA Ontario's overarching strategic needs.
Board and Governance Experience: An experienced director who is knowledgeable about governance and best practices; has served on a board committee or as an officer of a board or board committee.
Business Acumen: A leader who brings an understanding of business situations and financials and is skilled at effectively contributing to the business goals of a company.
Emerging Technology: Brings insight into the forces shaping the future of work and society including the adoption of AI and blockchain technologies, and how emerging technologies are changing the future of work.
Risk Management: Experienced at identifying, assessing and controlling risks to an organization's financial, business, sustainability, technology and reputational facets.
Future of the Profession / Learning: Experienced at helping companies, students, employees and prospective employees develop future-oriented skills that broaden their skill base and reflect the future of the industry.
ESG / DE&I: Brings a strategic understanding of ESG matters and DE&I efforts including the identification of matters such as, among others, sustainability, workplace diversity, privacy issues, cyber security and the metrics by which to track progress, performance and impact.
About CPA Ontario
We are an educator, thought leader, regulator, advocate and provider. CPA Ontario protects the public interest by ensuring our members meet the highest standards of integrity and expertise. We provide pathways to the profession for aspiring accountants from around the world. We engage proudly in our community as a responsible corporate citizen who balances the advancement of businesses with the concerns of society. Above all, we are trusted to ensure students and members meet our profession's standards and embrace our code of conduct.
CPA Ontario serves and supports more than 99,000 members and 21,000 students in their qualification and professional development in a wide range of senior positions in public accounting, business, finance, government, not-for-profits and academia. CPAs are valued by organizations of all types and sizes for their financial expertise, strategic thinking, business insight, management skills and leadership.
CPA Ontario plays multiple roles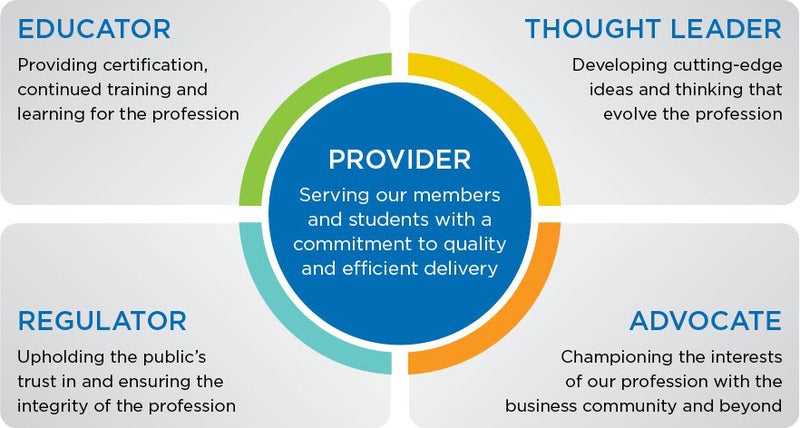 Our Core Values and Behaviours
Key to CPA Ontario's culture, the following values and behaviours are reflected in the work we do, how we treat each other and how we represent ourselves.
Think and act with a student and member-first mindset while protecting the public interest.
Always strive for the highest levels of professionalism.
Be open-minded and nimble as we adapt to an evolving environment.
Strive for personal accountability in everything we do.
Act with integrity at all times, in all situations.
Adopt a "one company" mindset, collaborating across functional lines.
Align activities and efforts to focus on results and outcomes.
CPA Ontario council roles and responsibilities
CPA Ontario's mandate is to protect the public interest and promote the interests of the profession. Council's role is to determine CPA Ontario's mission, set its strategic direction and oversee and monitor the performance of the organization through oversight of the Chief Executive Officer. The CPA Ontario Council consists of 12 elected members of CPA Ontario and four public representatives appointed by the Lieutenant Governor in Council.
Key Duties and Responsibilities of a Council Member
Protect, and be seen to protect, the public interest.
Protect the interests of the profession and members.
Ensure the integrity and independence of CPA Ontario's self-regulatory processes.
Act consistently in accordance with the values and ethics of the profession.
Set and approve the strategic direction, related priorities and corporate performance management framework.
Approve the annual business plan and performance targets.
Set the policy and advocacy framework and provide guidance and support to the CEO and senior team in the implementation of the strategic plan and annual business plan.
Review and comment on key initiatives as identified by CPA Ontario and staff.
Ensure the development of a risk management strategy and plan.
Monitor and evaluate financial performance and ongoing operations, including overseeing the annual audit with regard to fiduciary duties.
Appoint, set the compensation of, manage the performance of and evaluate the CEO.
Act as ambassadors on behalf of the organization.
Time Commitment and Committee Structure
There are four regular Council meetings a year, each generally held as an all-day meeting. Council members are expected to attend a minimum of 75 per cent of Council meetings in person.
Council members are expected to participate on a minimum of one Council committee (the four standing committees are Finance & Audit, Governance & Nominating, Human Resources, and Risk).
Council members are expected to thoroughly examine all pre-read material, attend committee meetings (in person or by electronic means) and participate as necessary to fulfill any other Council obligations (AGM, Council elections process, etc.).
Instructions on submitting a nomination
Any member in good standing is eligible for election to the Council by completing the nomination package. Please follow the process below to submit a nomination:
Review this document in its entirety.
Follow the instructions carefully and complete the following nomination package documents:

Complete, sign and submit the following background check forms:

Attach a digital colour head and shoulders photo (2" x 3" of 300 dpi) to be used on the CPA Ontario and voting websites for information to members.
Submit by email only all four nomination package documents, two background check forms and the colour photo, by no later than 5 p.m. on Friday, July 29, 2022, to Karen Armstrong. Nominations must be in writing, signed by two CPA Ontario members in good standing and be certified by the candidate.
Materials not received by the deadline will not be accepted or made available to the membership and the nomination will be rejected.
Candidates must adhere to the word count restrictions established for the Candidate Statement and Biography. Portions of responses in excess of those word counts will be excluded from the published materials.
Ensure that you receive confirmation of your nomination. Please contact Karen Armstrong if you have not received confirmation within a reasonable time period.
For more information on the election process, consult our Campaign Policy and our Frequently Asked Questions.
Approval process
Once the materials are received by CPA Ontario and the background checks are approved, all candidates will go through a review process. A third-party firm retained by CPA Ontario will contact candidates to schedule a one-hour interview to discuss the candidate's experience and qualifications.
Following the completion of the candidate interviews, all candidates will be notified of their alignment with the skills, attributes and experiences prioritized for Council in 2022 and a determination will be made as to who will be interviewed by the Interview Group.
The Interview Group, comprised of Council members selected by the Governance & Nominating Committee (GNC) of Council, will hold interviews from September 6 to 7, 2022, to discuss the candidate's background and qualifications. Interviews with the Interview Group may be held in person or may be virtual, contingent on health protocols in place at the time.
Once the interviews are complete, the candidates who most aptly align with the desired skills, attributes and experiences will be identified and all candidates will be notified of the selection. While some candidates may choose to withdraw by September 16, all candidates are encouraged to remain in the process. On September 20, candidate biographies, statements and photos will be posted to the CPA Ontario website. As part of the process, Council will also identify to the membership those candidates whose qualifications most aptly align with the needs of Council in 2022.
Each candidate shall be entitled to solicit votes for their election to Council beginning two business days after the later of: (i) the close of nominations or (ii) confirmation of the candidate's eligibility by the Office of the General Counsel, provided the candidate complies with all applicable policies and regulations, including but not limited to the Campaign Policy made by the GNC.
2022 Key dates
May 24: Council issues the call for nominations
May 24–July 29: Candidates undergo compliance and background checks as nominations are received
July 29: Nominations close
August 2–5: Candidates are interviewed by a third-party firm retained by CPA Ontario
August 12: Candidates are notified whether they will be meeting with the Interview Group
September 6–7: Candidates are interviewed by the Interview Group
September 14: Candidates are notified whether they will be identified by Council as a candidate who most closely aligns with the priorities for 2022
September 16: Deadline for candidate withdrawal
September 20: Candidate photos, biographies and statements are posted to the CPA Ontario website
September 21: Voting opens to members
September 28: Online voting closes at 5 p.m.
September 29: Election results announced at AGM
September 29: Meeting of incoming CPA Ontario Council and election of new officers
Thank you for considering a nomination for Council and for your commitment to the profession.
For questions, please contact General Counsel Tom Litzgus by email or phone at 647 519.7518.