No Limits: Inspiring Future CPAs to Dream, Dare and Disrupt
Throughout the year, CPA Ontario engages young people across the province to discover the limitless career potential of the CPA designation. Our flagship annual event for high school students is our No Limits Conference. We've been hosting No Limits for 21 years, and 2023 is the first time we did it in-person since 2019. This year's theme was Dream. Dare. Disrupt.
The keynote speaker at this year's sold-out event was Adnan Khan, CPA, CA, Co-Founder and Co-CEO at Viva. Adnan was one of those students inspired at No Limits to pursue the CPA designation. In 2021, he received the Emerging Leader Award which recognizes socially responsible leaders and innovators making notable contributions with significant impact. He came back to No Limits to inspire students with his career journey and entrepreneurship experience. Adnan talked about his first No Limits experience in his awards video.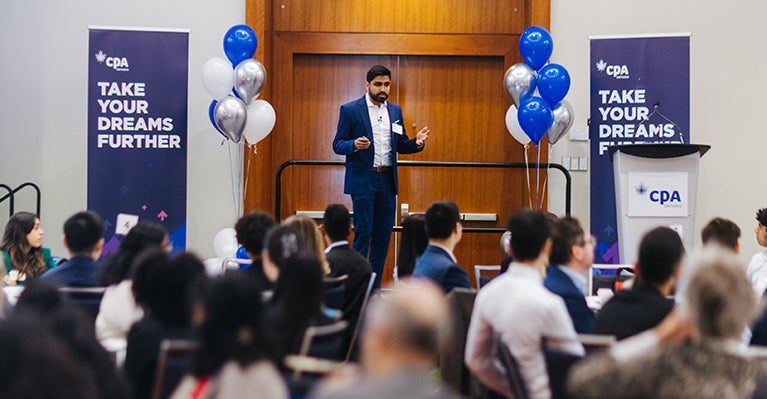 "Back when I was a high school student, I actually attended a conference called No Limits, run by CPA Ontario, and while I was there, I met a lot of CPAs that inspired me. I got to see all the different possibilities that they had in their careers, and I left that conference feeling a desire to learn more. So, I decided to pursue the pathway to become a CPA."
Overview of the day
Throughout the day-long event, students explored the diversity of career paths within the CPA designation and developed their soft skills. Over breakfast and lunch and during a roundtable, students networked with CPAs from a variety of industries and organizations, including CIBC, EY, Kijiji Canada, Cineplex Entertainment, Ontario Securities Commission and more.

Post-secondary representatives set up booths and hosted a panel to provide information on their programs. Students learned about networking like a pro and building their personal brand through a hands-on working from HD, PMP, one of SkillsCamp's leading facilitators. Teachers enjoyed a workshop by University of Waterloo faculty, Konrad Pawlak, CPA, CA, on how to prepare their students for post-secondary.

Students left with a greater sense of purpose and direction about their future, having grown their professional network and gained unique insights into one of the best designations in the world.