CPA Coffee Chat: Advocating for Neurodiversity in the Workplace
Dilshan Jayasinghe, CPA is a Senior Accountant, Assurance at EY in Toronto. He holds a Bachelor of Business Administration from the University of Guelph-Humber and a Graduate Diploma in Professional Accountancy from the DeGroote School of Business - McMaster University.
Volunteerism and community have always been important to Dilshan. And as someone diagnosed with autism spectrum disorder (ASD), he has been and continues to be an advocate for himself and others who are neurodivergent.
We asked Dilshan about his experiences, the importance of extracurriculars and how schools and workplaces can better support neurodivergent students and employees.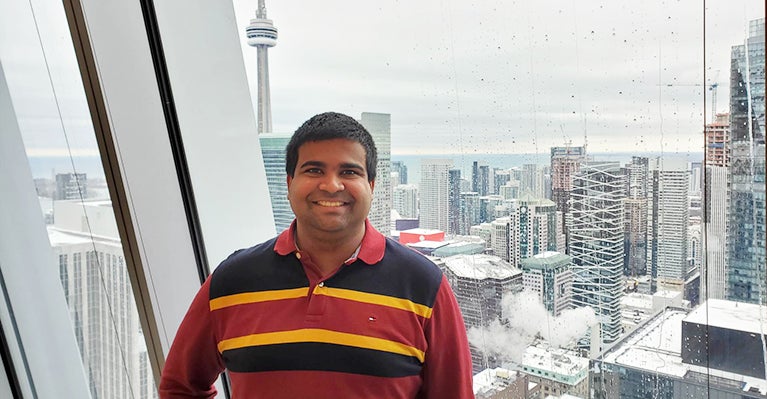 Why did you decide to become a CPA?
I wanted to become a CPA because it opens the doors to many opportunities, rather than the traditional option of accounting. Accounting - specifically assurance - was the field that I wanted to be in since high school. With the CPA designation, I can support different businesses and the next generation workforce.
What does a day in the life of a Senior Accountant at EY involve?
Each day is different. There are tasks for various audit engagements. I have meetings with my engagement team and client contacts, working on the planning stages of the engagement, performing audit procedures to test different financial statement accounts and addressing review notes.
A Senior Accountant ensures that the overall audit engagement goes smoothly and plays a fundamental role in the communication between the audit staff and executives and between the audit team and key client contacts. Additionally, I play a leadership role in mentoring and coaching audit engagement staff.
You were a very active student and leader while in school, how did those extracurriculars prepare you for your CPA career?
Being part of the CPA Ontario Board of Ambassadors program, representing the University of Guelph-Humber, was one of the many extra-curriculars that impacted my university years. I gained invaluable skills and opportunities to network and connect with many industry professionals and students.
I was also a student ambassador at my university supporting first-year students, a member of the executive team of the Guelph-Humber Accounting Council (GHAC) and involved in student government and case competitions. These extracurriculars prepared me to be an effective presenter, team member and leader. My involvement in the case competitions taught me to analyze a vast amount of information effectively under pressure. And I learned about the importance of effective communication, teamwork, relationship building and time management.
As a CPA student and a person diagnosed with ASD, how did you need to approach your courses and examinations?
Since high school, I had academic accommodations for my tests, quizzes and examinations. During university, I always got the textbooks before my first week of classes started and tried to read over the course material one to three weeks in advance. Knowing the course material ahead helped me to better understand what my instructors and professors were teaching and helped me actively participate in class.
My instructors and professors were super supportive about examination accommodations, and I was provided additional time, use of a memory aid and computer and supervised breaks.
What kinds of supports do you recommend schools put in place for neurodivergent students?
I would recommend all schools teach staff and faculty members about different neurodivergent backgrounds that people may have and how they can support those students. All neurodivergent students have the potential to do amazing things, and we should know what their unique skills and abilities are so that they can be supported throughout their educational journey.
In addition, what helped me a lot is the constant support I got from my counsellors at university through Accessibilities Services. I would recommend schools have check-ins with neurodivergent students so they can get the support needed to achieve success.
How have you continued your advocacy in your career?
I've been able to continue my advocacy at EY Toronto's Neurodiversity Centre of Excellence (NCoE). I've had the opportunity to co-write an article to share my neurodiversity journey from my first diagnosis to my educational journey and now at EY. This was a great opportunity to show that with support anything is possible. The article inspired other people to join the NCoE as mentors and to share their stories. At EY, we also have a professional network called the AccessAbilities Network, whose aim is to foster an environment and culture where people of all physical, cognitive and mental health abilities can thrive.
There's tremendous opportunity to create inclusiveness in an area that was not looked at previously. It provides opportunities not only for organizations, but to neurodivergent individuals and society at large.
What's your advice to other aspiring and current CPAs?
To all the aspiring CPAs, I encourage you all to be involved in different extracurricular activities on-campus. Those activities will give you transferrable skills that many employers are looking for. Furthermore, it gives you the opportunity to connect with students and industry professionals which will help expand your network that can serve you well in the future.
To all the current CPAs, I would encourage you to give back to the post-secondary community. We can be role models to students who aspire to become CPAs in the future. I had the opportunity to volunteer at different Post-Secondary Ambassador Program (PSAP) events since becoming a new CPA and it was a very rewarding experience.
What are your dreams for your future?
I want to continue to be involved with case competitions through the EY Ripples program, supporting the next generation of professionals which align to the UN Sustainable Development Goals 4 and 10. Additionally, I want to continue to show support of all neurodivergent individuals at EY and in the community. All these initiatives support environmental, social and governance metrics which will support the new IFRS Sustainability Disclosure Standards set out by the International Sustainability Standards Board.
One day, I want to teach assurance training modules for future EY employees and teach an accounting course at my alma mater. Finally, I hope to use all the skills that I gain as a new CPA to help build a better working world!
Rapid fire
Recommended book or podcast: The Ride of a Lifetime: Lessons Learned from 15 Years as CEO of the Walt Disney Company by Robert Iger
Favourite food: pizza, shawarmas, pasta
Hobbies: Watching movies, drawing, playing tennis (recreationally), watching and attending sports events, volunteering for different events
Best piece of advice you've received: Always have open communication with your team members as well as your friends, family and colleagues. On your audit engagements, you are not alone, you have group of people who are there to support you from start to end.