Working Together in Uncertain Times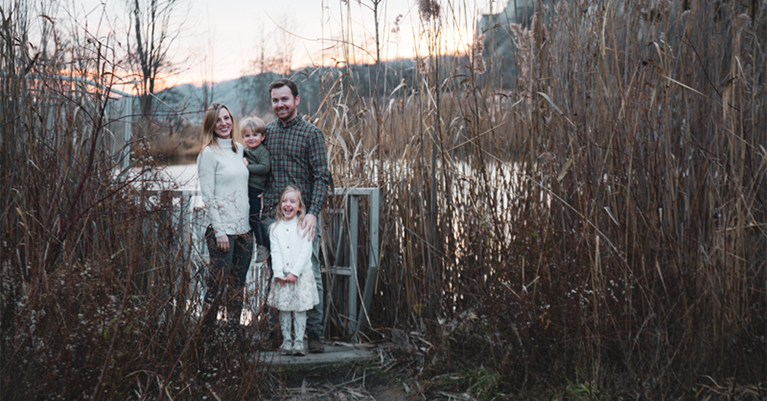 Ewa Opalinski and Danny Gollogly have a few things in common: they're both CPAs, they're both chief financial officers, and they're both parents.
These commonalities have helped the two support one another in their respective careers and in their marriage, providing stability in an otherwise uncertain time.
During the pandemic, their shared lives have provided newfound challenges and opportunities to pivot.
"The ability to pivot is a significant skill set required in both our personal and professional roles. It's required at home, especially dealing with the challenges of raising a young family through COVID-19. It's also helped navigate a shift in business direction resulting from the pandemic," Danny says.
As the CFO of BLT Construction Services, Danny played an important role in the company's pivot to providing solutions for healthcare providers, starting with the construction of Canada's first COVID-19 response unit at Burlington's Joseph Brant Hospital in just 14 days. Since then, BLT Construction Services has built over 82,000 square feet of pandemic response space, adding over 263 patient beds across Eastern Canada.
Those projects required quick thinking, adaptability and complex problem-solving, skills ingrained in CPAs.
Ewa has utilized similar skills throughout her career.
As the CFO of Easy Legal Finance Inc., a private credit manager servicing the legal sector, she's an integral part of the company's governance, risk management, operational and financial strategy.
She also plays a significant role in assessing expansion and acquisition opportunities, which kept her busy during the pandemic.
Ewa negotiated three acquisitions to help accelerate the firm's strategic plan, despite the impacts of COVID-19.
"I work alongside our teams to incorporate leading technology solutions to increase the efficiency of our lending process and to fuel the growth of our company so that we can continue to provide access to justice to those in need," Ewa says.
Coming from similar educational backgrounds and working similar roles has helped the couple support each other in their careers and at home.
"It's kind of effortless for us to communicate where each other is at in our business life; we know how things ebb and flow in our roles," Danny says. "We speak about things that are coming down the pipeline or whether one of us is having a particularly challenging week. We also work hard at supporting one another while maintaining a supportive environment for our children."
Of course, it isn't all about work for the two.
While they've seen new challenges at work during the pandemic, they've also found ways to pivot at home.
During the pandemic, the couple added two cats to the family, built an outdoor skating rink and even added four backyard chickens to their home (in the heart of Toronto) to help their children better understand the origins of food through hands-on experience.
All in a day's work.