Shifting the Paradigm
"I can guarantee I'll be the only CPA you meet that turns poop into power."
Though Fahad Tariq, CPA, CA and 2020 CPA Ontario Emerging Leader, speaks enthusiastically about his role as an equity research analyst at Credit Suisse and about earning his designation, he lights up when discussing Shift – his non-profit that turns animal waste into clean energy for communities in need.
"I always joke and tell people the idea came to me when I was in the washroom, but that's not true," Tariq says of Shift. "I came across the idea when I was at business school."
Tariq and a few teammates had entered The Hult Prize competition, an annual competition for MBA and college students to address social issues like energy, education, and food and water security. Their idea was to use human waste to create energy.
Fahad and the local Shift team visiting the first project in Gujranwala
Although Tariq's team ultimately didn't win, he saw a golden opportunity.
He tweaked the idea slightly, replacing human waste with animal waste, and founded Shift in 2017.
"It was something so cool," he says, "repurposing something mundane and abundant into something useful."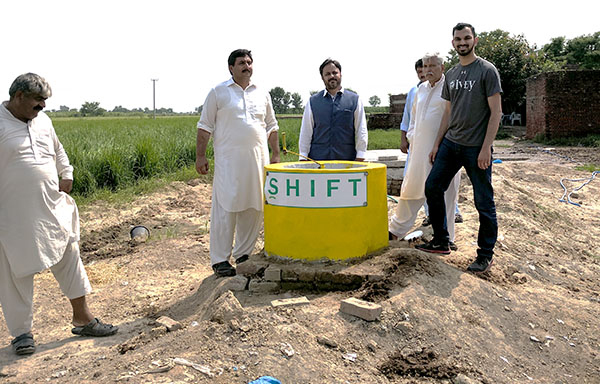 The local Shift team meeting residents in Khipro, the site of multiple Shift projects

Shift currently has over a dozen projects in Pakistan – with plans to set up operations in Uganda next – and, according to its website, has collected 500,000kg of animal waste to create free, safe cooking gas for 500 people.
Did he ever imagine that he'd one day head a non-profit that creates energy from waste?
The answer is a resounding "no". But Tariq is quick to credit the CPA designation for allowing him to be adaptable and providing him with valuable technical skills to oversee such an ambitious project.
"The career opportunities are plentiful," he says. "[The designation] gives you that confidence … because you're constantly learning new things and becoming an expert.
"That learning and breadth gives you a lot of perspective and keeps you open to new opportunities."
According to Tariq, there's no set career path anymore – which is great news for those pursuing a CPA.
"There are going to be lots more opportunities and CPAs can adapt very quickly, learn something new, delve deeply into it and become experts. Not many people are trained that way."
So, what's next for Tariq?
"With Shift, we want to implement this technology in every country that needs it," he says. "We're confident we can do it."