Creating Value and Trust with DEI
As head of Diversity, Equity and Inclusion (DEI) at Ontario Teachers' Pension Plan, Michael Cherny, CPA, CA, brings trust, value and a human perspective to his dream role—demonstrating what it means to be an inclusive and authentic CPA.
A strategic leader with a wealth of experience, Michael gives back to the community through his volunteer work and has served on numerous non-profit boards, including most recently completing his term as Treasurer on the Board of The 519. Michael's community work is also focused on advancing healthcare equity and accessibility as a Director on the Board of Women's College Hospital Foundation and he is a proud ambassador of the CPA profession, serving on CPA Ontario's Council. Michael's longstanding commitments to inclusion have garnered him recognition as a Catalyst Canada Honours Champion, CPA Ontario Emerging Leader and Notable Life 2SLGBTQ+ Leader of the Year.
We interviewed Michael about his career journey, his DEI work and how CPAs can take an active role in creating a more diverse and equitable profession.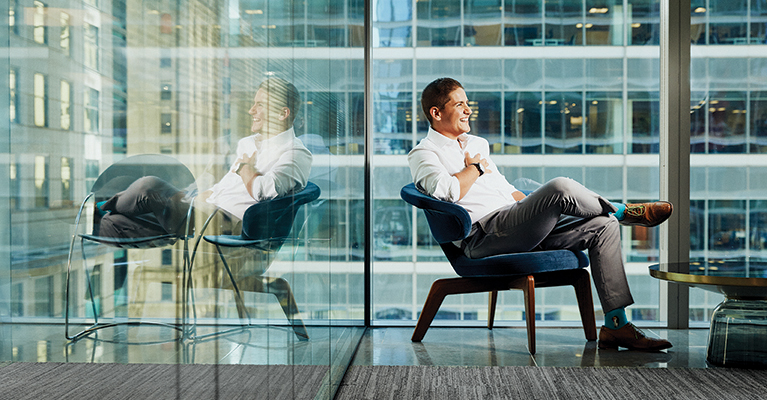 Why did you decide to go into accounting?
I decided to become an accountant in high school after joining my older sister at a university fair, where I happened upon a presentation by CPA Ontario (then known as the Institute of Chartered Accountants of Ontario). They had a variety of speakers from all kinds of sporting and creative organizations, and I thought, "Wow, their jobs are so cool!"
I initially wanted to become an actuary, but I quickly realized that I preferred accounting. It grew into a passion for me because I enjoyed so many elements of it, from complex problem-solving to understanding a business and building relationships.
Starting your career in the assurance, advisory and consulting space, did you expect to play a DEI role? What does your day-to-day look like?
Seven years after becoming a CPA and over 10 years into my career, I'm now the Director of DEI at a pension fund. And it's drastically different from what I expected going into the profession. I carry what I've learned on my CPA journey into the DEI world—skills such as critical thinking, understanding a business, serving as an advisor and thinking about the future.
Today, I'm actively engaging on the topic of DEI with management and building strategies that meet our businesses where they are and position them for the future. It's an amazing combination of working with employee resource groups and cultivating an internal experience around inclusion. My work impacts policies and practices and works in partnership with our DEI Council, but it also extends to the way we serve our members, the teachers of Ontario, as well as our portfolio companies and our approach to the public markets. It's a dream to advise a $240 billion global asset manager who can impact the world.
As a CPA, I can talk about DEI from the perspective of business and value creation, but also from a human perspective, drawing on my own lived experiences both personally and professionally. I think that combination resonates for people.
You have a very impressive resume from a DEI perspective and you've been recognized as a leader in the 2SLGBTQ+ and DEI space. What drove you to get involved and how did you get started?
I've always been a passionate member of the queer community and I've had the opportunity to give back by volunteering and really making use of my unique CPA skill set in the boardroom.
Whether it was being involved on boards outside of work or engaged with different global networks, people were always asking for my perspective and opinions. But in order to be a true subject matter expert, I started educating myself by taking courses, doing a lot of reading, and building and nurturing a large network of diverse individuals around me to understand and explore diverse experiences and perspectives.
For organizations looking to build trust with employees, customers and other stakeholders, DEI is huge. It can be a dealbreaker, but it's also a value creator. It was the trust piece that really brought me into this space, but it's the opportunity to make a huge impact by changing people's lives that keeps me motivated every day.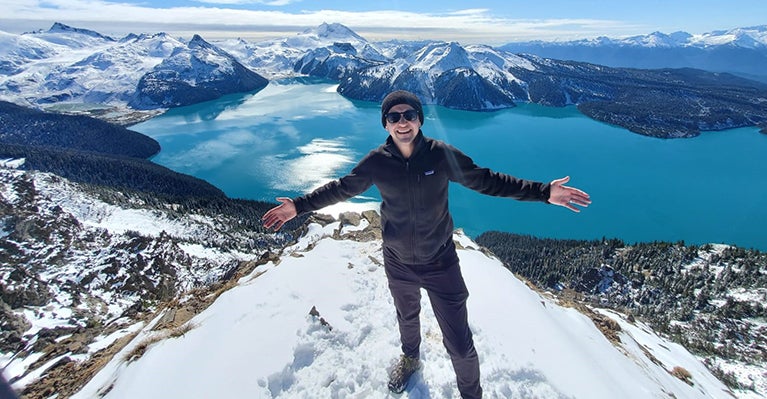 You mentioned that allies were frequently approaching you to ask for advice, but this can be emotionally burdensome or stressful. What advice can you share to help allies and members of the community to balance learning with boundaries?
There's an immense emotional aspect to this work. You are talking about people and their lived experiences, about unjust behaviours and inequalities that exist in our day-to-day. I want to be a resource, someone people can approach to ask questions, learn and grow—but I have to give for that to happen. That's why protecting your mental space is so tough but so important.
I would advise allies to step in and support anyone in such a role. Stepping in as an ally to speak up and provide support creates the space to shift the burden. I would also encourage allies to educate themselves, speak up, be active in big, bold ways and even in small ways, like adding pronouns to your email signature and starting conversations. Allyship is critical work that can be done in both visible and invisible ways.
For me personally, I try to set the boundaries of what I'm comfortable sharing and where I may direct someone to alternative resources. I also make time for fun as a way to safeguard my emotional health!
What skills do you think CPAs have in their toolkit to drive and create a more inclusive future?
CPAs understand how a business works and how fluctuating value can impact its financial statements. The ability to think critically about value creation, goodwill and what it means from an employee experience perspective is vital to inclusive workspaces.
CPAs also have incredible attention to detail. We've spent so much time preparing for exams, writing exams, conducting audits and working with financial statements that we don't miss much. This training helps support our work ethic for the rest of our lives. It may seem like an odd skill to highlight, but it's an underrated one. To create a more inclusive future, you have to be present and focused. CPAs focus on the details, the "small stuff" and it's those small, everyday moments that lead to monumental change over time.
Above all, it's important to be a visible and authentic CPA. Rather than sit quietly in the background, take advantage of the tremendous opportunities to be a leader in many different spaces. I've chosen the DEI space to demonstrate what it means to be an inclusive and authentic CPA, but there are plenty of ways you can make a difference as a CPA.
What professional advice would you give to those considering a CPA designation?
You will never regret getting your CPA designation. It is hard work, but it builds your character and your skill set, opening the door to endless possibilities.
There are amazing tax accountants, auditors and public accountants who do the necessary work to maintain our capital markets and support businesses, but there's also a host of CPAs doing incredible things outside of typical accounting.
When I was a kid, my mom always told me, "I don't care what you do, just get a designation of some sort and then go sell peaches at the market." That was the best advice I have ever received, and I still carry it with me, along with my CPA.
Visit our Spotlights page to read more about CPAs doing amazing things. If you know an interesting CPA who wants to be profiled, email our team.