From the Big Four to the Big Leagues
Getting the right kind of training can take you from a promising internship to your dream job. For Josh Hoffman, CPA, Senior Manager of Finance with the Toronto Blue Jays, the CPA designation was clutch.
A sports obsessive, Josh relishes the emotional swings that come with being both a fan and employee of his favourite team. His most cherished experience is attending Game 5 of the 2015 ALDS with his wife Julie (where he witnessed Jose Bautista's infamous "bat flip"). Just a year later, one month after being hired by the Blue Jays, the organization took him to Cleveland for Game 2 of the 2016 ALCS – another moment that will live long in his memory.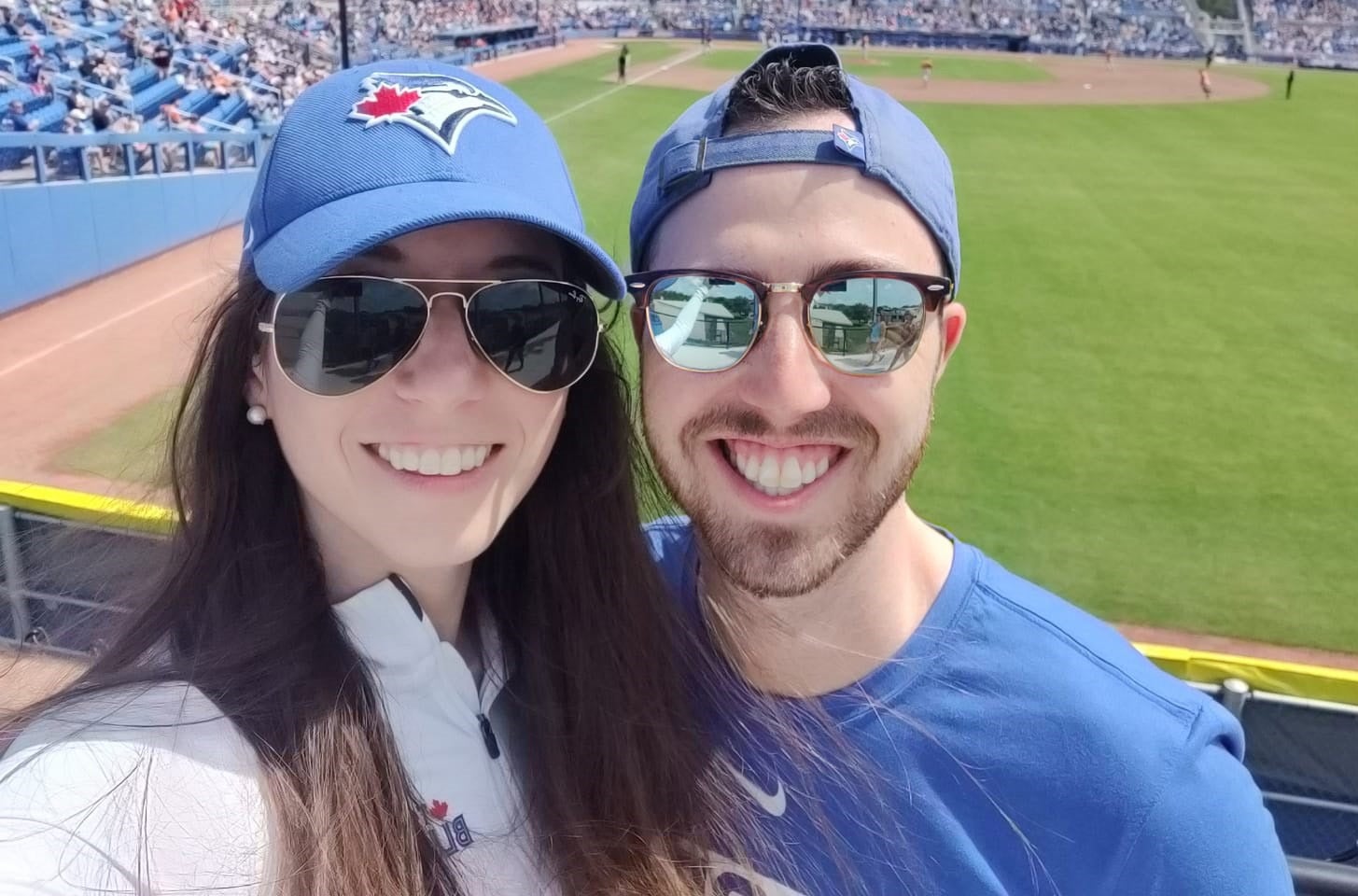 Josh Hoffman with his wife Julie at the Blue Jays' new Spring Training facility in Dunedin, Florida
Josh's career highs are just as impressive. In 2017, his pricing strategy presentation was broadcast on the Rogers Centre jumbotron during a staff town hall. And, last January, he managed a player group at the annual Blue Jays Winter Fest, where he got to mingle with some of the team's past and present Big Leaguers.
This year was far from business as usual across Major League Baseball, and the Blue Jays faced unprecedented challenges during the pandemic. But despite a curtailed season and a temporary home in Buffalo, they made the playoffs for the third time in six years. Josh believes his adaptable CPA training allowed him to meet the changing needs of his role. Sports teams are just like any other business, and CPAs are primed to excel in this exciting industry.
His advice for would-be sports accountants? Prioritize functional area expertise over industry knowledge. For CPAs, that means selling your technical and soft skills, rather than sports savvy, in interviews. Oh, and network your socks off. LinkedIn and university alumni networks are indispensable door openers.
Josh Hoffman with a former Blue Jays colleague at Game 2 of the 2016 ALCS in Cleveland
While studying commerce at university, Josh built on a summer stint with Canada Basketball and three years on the Ontario Freestyle Mogul Skiing Team to secure an internship with Tennis Canada's Sport Development department. Although he knew he had found his calling in sports, he needed to develop a specific skill set to reach the upper echelons of the industry. Accounting seemed a natural fit.
During his CPA training, Josh landed a job at EY, where he learned crucial skills such as resilience, technical expertise and team leadership. He also networked relentlessly, contacting anyone he could find who worked in the Toronto sports industry. Eventually, his hard work paid off. He met with a former EY employee and Blue Jays Senior Manager of Finance for a coffee one day, and a year later he was crunching numbers for Canada's ball club.