7 Questions with a Climate Accountant
As more and more businesses grapple with how to measure and report their environmental and social impacts, many CPAs are rising to the challenge. For our latest Spotlight, we caught up with Katie Blum, CPA, CA, a budding warrior accountant who is forging new trails in the field of climate accounting.

While a Senior Consultant at Deloitte, Katie turned her part-time passion for sustainability and ESG into a full-time pursuit with the support of her professional network. Now Persefoni's Associate Director, Climate Solutions and a 2021 CPA Ontario Emerging Leader, she recently spoke to us about her career shift, what climate accounting means to her and the biggest challenges facing the CPA profession.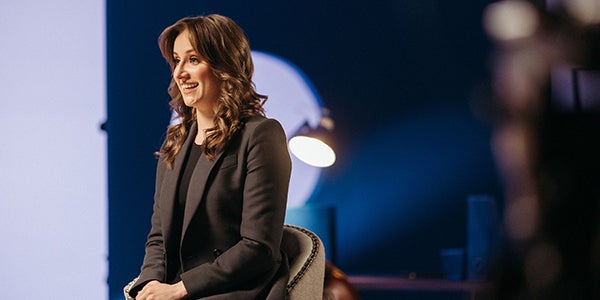 Where did you start your career and how did you get to where you are today?
I started my career in Deloitte's Assurance practice, consulting CFOs on how to improve their finance function through people, processes and technology. I soon realized that I wasn't fulfilled and needed to look for something more.
I had always been very involved with my firm's sustainability and ESG efforts, but it wasn't until I turned to my network that I realized they could define my career. After leveraging my background to help develop the methodology for a sustainability reporting platform, I eventually found myself talking about the ins and outs of climate accounting with some of the incredible people I'm now fortunate enough to call my colleagues. It was through these conversations, further education and learning opportunities, such as the One Young World Summit, that I was able to transition into the world of climate SaaS startups.

You currently work with Persefoni in the climate accounting field. What does your day-to-day involve?
Much of my day-to-day involves supporting our customers with technical knowledge of the Greenhouse Gas Protocol, the Partnership for Carbon Accounting Financials standards and broader sustainability topics. Every day I'm able to make an impact across our customers' climate journeys, be it evaluating which areas of their operations they're able to report on given standard or data quality limitations or helping them understand how to interpret our analytics.

What attracted you to the field?
What drew me to climate accounting was the complexity, the constant evolution of the market and mounting demand for technology-driven solutions. While I was already in the climate space, joining Persefoni felt like a full circle moment in which I was able to apply my background, interests and CPA designation to one role. What better way to make an impact than to bring my whole self to work every day?
What do you wish people knew about climate accounting?
Now, more than ever, climate change is being recognized as a key business risk and opportunity. And while starting your organization's climate journey might sound daunting, you have to start somewhere. Embedding climate change into the everyday operations of an organization should be seen as a journey, with improvements made over time. Many of the standards in existence today acknowledge the current market's limitations and suggest a "do your best" approach, provided organizations are committed to continued improvement and the disclosure of assumptions, exclusions and data gaps. Every day there is new content, working groups and technology aimed at solving these very issues. Climate accounting is incredibly complex, but that doesn't mean it can't be a straightforward, rewarding and (dare I say) enjoyable undertaking.
What are the biggest challenges that businesses will face in the next few years, and how are CPAs uniquely equipped to overcome them?
Having realized that there is more to good business than profit, stakeholders are changing how they define success. A business is no longer measured solely on its financial performance, but also its holistic operations and their impact on people, the environment and society. This shift poses a challenge for businesses and CPAs alike.
As businesses look for ways to adapt to these changing measures, and in some cases new regulatory requirements, CPAs must understand and account for their impact. Whether they're working across internal functions, serving as consultants or even auditing related disclosures, CPAs will be integral in determining how to account for and report on these new measures of success.
What are you most proud of personally or professionally?
I grew up spending most of my days surrounded by horses, whether at home or at competitions across North America. While I never saw myself pursuing the sport professionally, I knew I couldn't give it up. I've somehow managed to balance my love for horses first with school and now my career.
Whenever I get the chance, I love to escape the city and seek refuge in my most trusted place of bliss, the saddle. Though I can't spend as much time there as I'd like, I'm lucky enough to have the two horses who saw me through my most competitive years, Carnell and Zam Zam. I could speak to many wins and unforgettable moments, but what I'm most proud of is still being able to see them every chance I get and give them the retirement they deserve.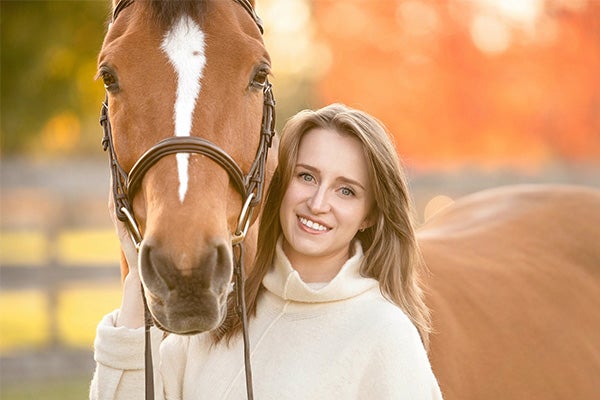 What do you wish you knew at the start of your career?
Looking back, I never had a great idea of what I wanted to pursue. I wish I had known the benefits of learning along the way and that it was fine not to have a clear career path—it sure would have saved me a sleepless night or two. With the guidance of my parents, who are my biggest supporters, I eventually decided to follow in the footsteps of my dad and pursue the CPA designation. I didn't know it at the time, but this decision would later open doors for me when I entered the world of climate SaaS startups.
If my journey has taught me anything, it's to seek what fulfills you in everything you do and find the people you want to do more of that with. Whether that's your job, side-of-desk efforts, volunteer work or pastimes, you never know why, where or when that "aha" moment will come to you.
Visit our Spotlights page to read more about CPAs doing amazing things. If you know an interesting CPA who wants to be profiled, email us at [email protected].
Know a CPA driving change?
Nominate them for a 2023 Emerging Leader Award.
Learn more